Reflexology may be as effective as painkillers, according to a scientific survey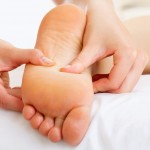 Dr Carol Samuels, a trained reflexologist and member of the Association of Reflexologists carried out her PhD research in this area and the findings were published in the Journal of Complementary Therapies in Clinical Practice. The above article outlines that reflexology could be used to complement conventional drug therapy in the treatment of conditions associated with pain such as osteoarthritis, backache and cancers.
Over half of my clients experience pain on a regular basis and have reported that reflexology has alleviated this discomfort. In order to explore this further I hope to undertake series of treatments focusing specifically on the pain experienced by a client who has osteoarthritis. Watch this space for updates on their progress and feedback.