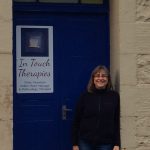 I am sorry to have to advise my clients that all Complementary and Massage Therapy businesses have been advised by the Scottish Government that "therapy businesses …….should remain closed for the time being"… They went on to add that "we must first assess properly the available clinical evidence. That process is currently underway".
This information was posted on the Scottish Government website on 8th July without any forewarning or discussion with the sector . This is a significant change to previous Scottish Government advice that we could open at the same time as the beauty sector. The National Clinical Director, Professor Jason Leitch outlines the reasons for this in his letter attached below.
Unfortunately due to this last minute and poorly communicated change in Scottish Government decision making, In Touch Therapies now has no clear date for reopening. I am involved in lobbying Nicola Sturgeon, Jason Leitch and Fiona Hyslop, The Economy and Business Minister. Our local MSP Willie Rennie has been a great help in this process and I will update you all as soon as I can.
 In the meantime please feel free to email any of the above Scottish Government representatives to ask for a clear timescale for the return to work for the Complementary and Massage Therapy Business sector.