After many emails to Scottish Ministers, complementary therapists have been advised that they are now able to open for business at the same time as the beauty salons. We have been issued with guidance about the measures that we need to take. This includes asking clients to wear a face covering and I will be wearing a face covering and a face visor when giving treatments.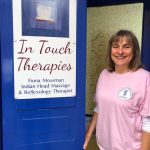 We are not yet allowed to visit clients in their own homes and the treatment room will look a little bare as all leaflets, magazines, ornaments, candles and fleece blankets have all to be temporarily removed. However you can bring your own blanket and if you forget a face covering I will have a supply of disposable masks.
I am very much looking forward to opening the big blue doors again at In Touch at 10 am on Thursday 23rd July.
Please contact me to book an appointment fiona@in-touch-therapies.co.uk, 07979 655 965.