As Fife moves into Level Three on Friday 13 November I wanted to update current and potential clients that close contact services like In Touch are able to remain open as noted in the table below.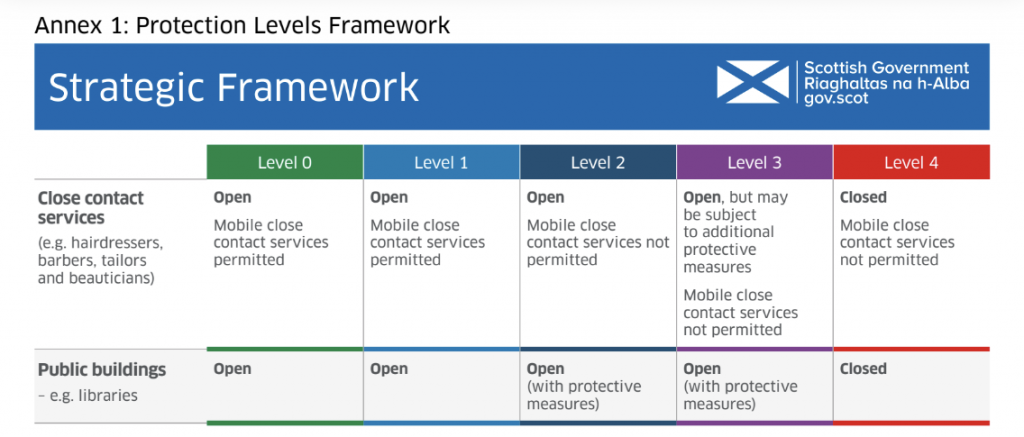 Covid-19 Secure Hygiene and Risk Assessment
In Touch continues to follow  guidance from the Scottish Government on the Covid-19 Secure Hygiene measures  required for all close contact services. The guidance is clear and comprehensive and the following is a brief summary of what In Touch is required to do and what is expected of clients who come for a treatment.
I will be wearing a face mask at all times. Clients are required to wear a face covering on entry to the treatment room and throughout the treatment. The use of hand sanitiser is also required. I follow a cleaning schedule before and after each appointment,  the cleaning checklist is on display in the treatment room and the full hygiene guidelines are also available.
Additional guidance from my professional organisation and my insurance company requires me to call all clients the day before each appointment to ask a set of Covid-19 questions. This allows us to discuss if you might have been exposed to the virus or if you have any symptoms, before you attend for your appointment.
I hope this information gives you reassurance as you consider when to book your next appointment but please do not hesitate to contact me if you have any questions. Now more than ever taking some me time to rest, unwind and relax is important. 
Stop the world and relax with a treatment from In Touch Therapies.