It is World Reflexology Week from Monday 18th- Sunday 24 September and this year's theme is corporate or workplace reflexology.
Read on to find out how  In Touch Therapies started out offering reflexology in the workplace and the benefits it can bring.
Workplace Wellbeing Sessions from In Touch Therapies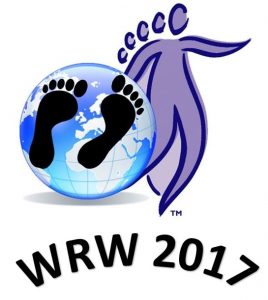 I started my own journey to become a complementary therapist 10 years ago. I was part of a lucky team who received monthly treatments at the office I worked in. A local therapist would base herself in a room in our office and gave us 30-minute treatments during our working day. Back then we organised this ourselves and we all looked forward to our half an hour of time for us. Personally, I found it decreased my stress levels and eased the aches and pains that you can experience sitting at computers for long periods of time.
We certainly all noticed a difference when our therapist was no longer able to offer us treatments and this very positive experience set me on the path that I am on today.
I have been offering workplace wellbeing sessions, (as I like to call them!) for four years now and have delivered them in a range of settings, from IT to the NHS.  I used my network of friends and colleagues that I built up over 20 years in social work. My most successful contact was through a good friend in a management position in a housing association that I had worked alongside when I was a social worker. My friend linked me in here to the Human Resources (HR) Team and made use of the Healthy Working Lives Scheme to encourage and sustain the involvement of the staff and senior management. I have been delivering the sessions, twice a month, for three years.
The appointments are co-ordinated for me there by an HR Officer and the HR manager. Both receive regular treatments and give and share positive feedback from staff in relation to improvements in their wellbeing and stress levels and alleviation of ailments. The Chief Executive also books in for appointments and each time has fed back that the staff are benefiting from the regular treatments.
Spreading the word
Word is spreading in the organisation and the regular clients pass on their positive experience and I see new faces and feet every time I visit! Equally word has also spread to other local housing associations and after having moved recently I was also able to use testimonials and references to set up a new arrangement with another housing association which is more local to me. I have used this experience and used another friend as a contact to offer the sessions in a NHS setting and have since been invited back by the team after a very positive initial taster session.
In both settings, the employees offer services and support to the public in busy and often stressful circumstances. The staff share with me how much they value and appreciate their half hour, noting that it is helpful that In Touch comes to their workplace, making it easier to fit into their busy work and life schedules.
It is both a pleasure and privilege to be able to offer these sessions.  It is very rewarding as a therapist to hear regularly how the treatments have helped with symptoms, improved wellbeing and reduced aches and pains. But don't take my word for it! Here are a few quotes from regulars and a recent taster session.
I have been attending the workplace wellbeing sessions with Fiona since January this year. The treatments are so relaxing, I nearly falling asleep during the massage. Fiona is also great at adapting each session to suit your needs. I hope our Health Working Lives group keeps running these sessions as I look forward to it every month.
Debbie, Queens Cross Housing Association
 Just wanted to say thank you so much for the therapy session I had with Fiona yesterday.  I had foot reflexology and it was fabulously relaxing as well as amazing how 'problem' areas in your body can be spotted and managed through your feet!  Would definitely pay to have this again.

All the staff who did have a session yesterday are of the same opinion – they would love for Fiona to come here on a regular basis. 
Patricia, NHS Lothian
Had a reflexology treatment and was immediately so impressed that I booked a block of sessions for the coming year, my feet felt great afterwards and I found the session so relaxing and was able to chill for 30 mins.

Looking forward to the next one.
Linda, Queens Cross Housing Association
I have been receiving 2 treatments per month at work for over a year now and I absolutely love the treatments provided by Fiona.  Fiona is such a lovely person and makes you feel so relaxed; in fact, during the treatment I'm nearly falling asleep!  I would recommend to anyone!
Gillian, Queens Cross Housing Association